Track Listing
Links to audio and lyrics
Recorded by
Paul Martin at Big Sky Music Studio, Trumansburg NY
Metamorphosis
Released 2023
From the Liner
Recorded and mixed by Paul Martin at Big Sky Music Studio/Sweet Land Farm, Trumansburg NY over the Winter of 2021-2022 .
Mastered by Mark Gunnery
Motherwort Members on this recording
Youngiee Quennell: fiddle, acoustic guitar, vocals
Mahra Parian: electric guitar, vocals
Heather Sandford: bass, vocals
Ashley Ickes: drums, vocals
Track Credits
Korean Fan Death (Youngiee)
La Loba (Mahra)
Miserable (Heather)
Fight, Flight, Freeze, Appease (Youngiee)
Running on Empty (Mahra)
Waiting for Spring (Youngiee)
Bonus Track (Bandcamp and CD only)
Death of Prince Charming (Youngiee)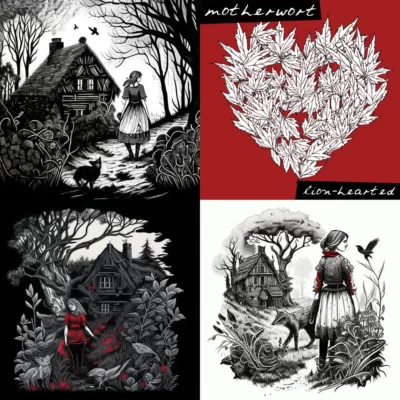 ONCE upon a time, in the enchanted forests of upstate New York, there lived three fierce and magical grrrls. Each one ruled over their own verdant kingdom, where they tended to the earth and all of its wondrous creatures. They basked in the warm glow of the sun and the cool embrace of the moon, and drank in the life-giving essence of the land.
But one day, these three grrrls stumbled upon one another, and it was as if the stars themselves had aligned. They knew, in that moment, that they were destined to join forces and create something truly special. So, they came together in a union of music and magic, each one contributing their own unique voice and talents to the mix.
As they sang and played, they inspired others in their community to join them, to share their gifts, and to connect with one another in a way that was truly extraordinary. And now, they bring their voices and their magic to you, dear listener, in the hope that it will inspire you to chase your dreams and follow your heart. So, let the music of the wilds of upstate NY transport you to a place of wonder and magic, and let the voices of these three grrrls guide you on your journey.